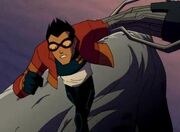 There is a flying object in the city and everyone is running

Agent Six comes in and tells " Is it what I think it is "
Rex comes in and meets Six and says "Hi Six"
Six says " its been a while since seeing you and how is ceasar " Nice to meet " Then some E.V.O's come out of the flying object and start attacking the city and then Six takes out some new Blades and starts fighting Rex has a new weapon called as Power Bash same as smack hands bit more modified and awesome. After finishing them off the nephew of Van Kleiss says " You have finished my uncle Van Kleiss and i will take revenge on you and your team and flies away. Six says " How are you " Rex says "fine" Bobo comes and says " Hi everybody " Rex says " Bobo was with me after Van Kleiss was dead "
To Be Continued...............Edit